SABB Offer
Hurry up! Deal ends in:
:
:
Fast Home Delivery
Select A City
Product(s) Are Currently Available For Delivery To The Following Locations:
Collect From Store
Tasheel Finance, Purchase On Instalments
United Company for Financial Services (Tasheel Finance) governed by the Saudi Central Bank (SAMA) provides you with an installment sales program (Murabaha) that enables you to purchase all your needs on easy installment that can be done easily and fast online without the need to visit the store. For more information and to apply, click on More Details
More Details
Product Information
Model No:

55026331/55027773
SKU:

100247320
Highlights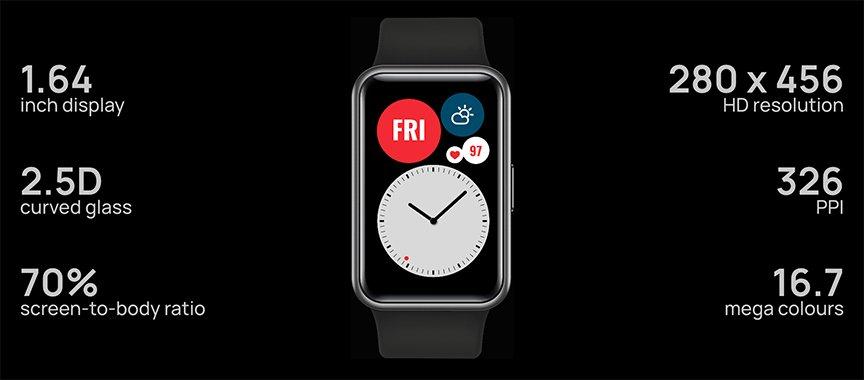 More Possibilities on Your Wrist
Featuring a gorgeous 1.64" rectangle AMOLED display and 280 x 456 HD resolution, HUAWEI WATCH FIT delivers an ultra-clear and wide viewing experience. Auto-brightness adjustment offers better viewing in sunlight while the six Always-On watch faces allow you to express your personal style and mood on any given day.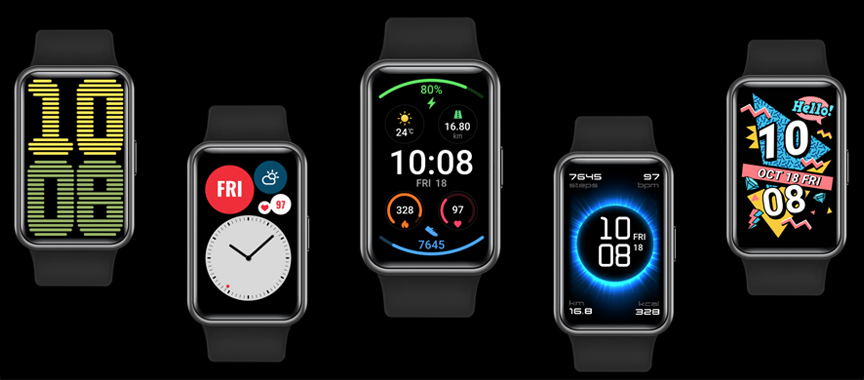 Refresh Your Everyday Style
Personalize the theme to match your everyday look with various colourful watch faces. In addition to the official ones, there are abundant stunning watch faces in the Watch Face Store for you to choose from. And also you can customize your own one with any photo from your mobile device.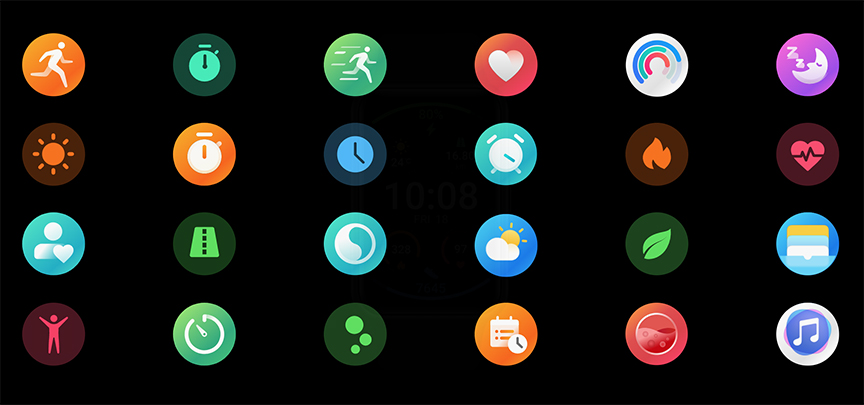 Customized for Your Convenience
Now the functions that matter on the watch face can be customized easily. What you care about most like weather, heart rate, steps, battery life and others are free to be selected and set on a suitable position according to your viewing habits.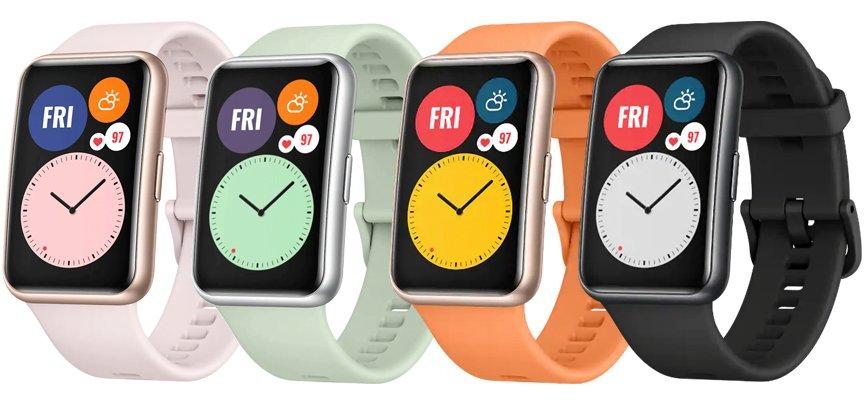 Active Edition
Made using matte textured polymer fiber, the watch frame is both smooth and durable, and blends gracefully with the chic silicone strap. Whether it's for sports or casual wear, this smartwatch is your ideal companion.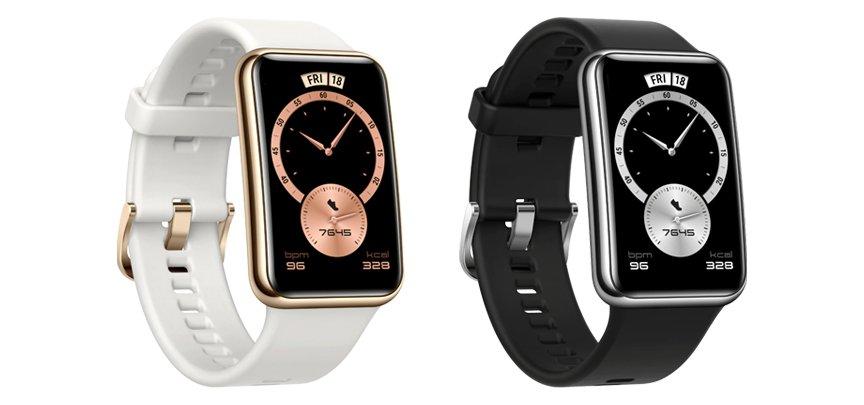 Elegant Edition
The polished stainless steel watch frame is sleek and premium, and pairs seamlessly with the soft fluoroelastomer strap for an always comfortable fit.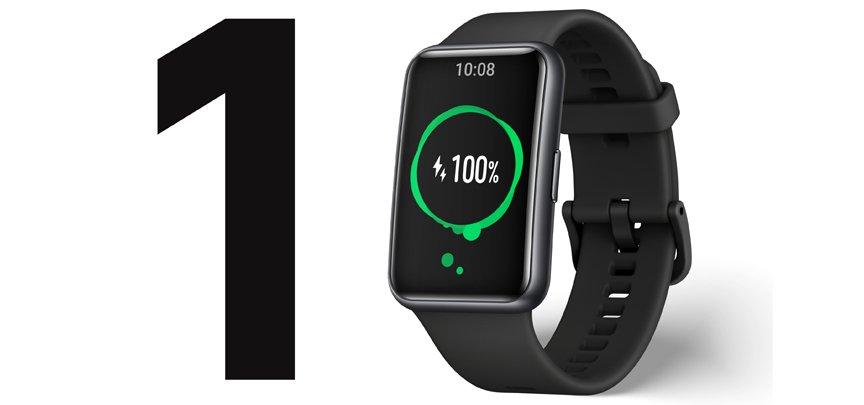 Lighter Design, Longer Battery Life
The incredibly thin and light HUAWEI WATCH FIT packs upgraded battery performance into just 21 grams, making it a perfect all-day companion. Featuring the dual chipset architecture and power-saving algorithms, this watch can last for 10 days. And with the quick charge technology, the watch can support you a whole day with a 5-minute charge.
Private Trainer on Your Watch
Start training anytime with HUAWEI WATCH FIT and be free from searching for workout demonstration videos. This watch provides 12 kinds of animated quick-workouts like Exercise at Work, Full-Body Stretch, Ab ripper and includes 44 standard movement demonstrations. Make the best of your down time like coffee breaks or lazy hours on the weekend to keep fit with this smart watch.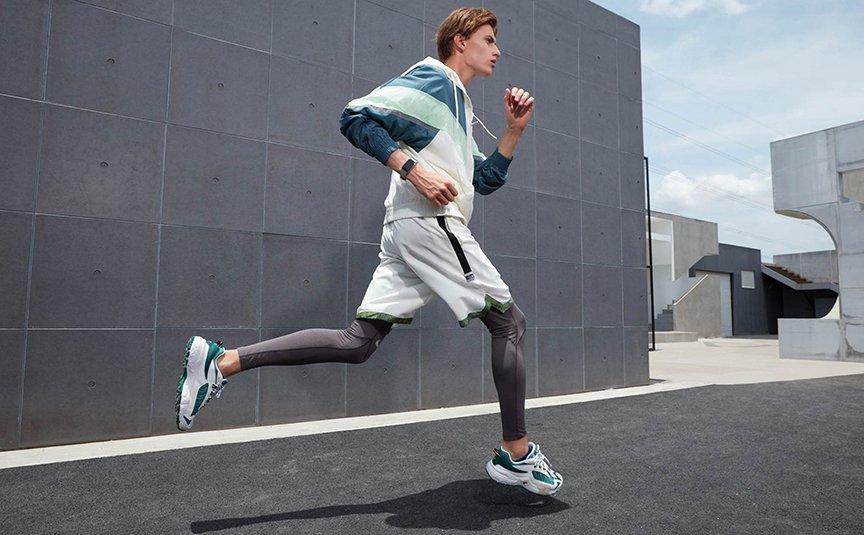 96 Workout Modes
HUAWEI WATCH FIT provides precise and real-time workout metrics for 11 professional sport modes including running, swimming and cycling. The 85 custom workout modes allow you to unleash your potential, whether you're into yoga or high-intensity interval training, the watch also keeps track of your real-time heart rate, calories and duration of the workout.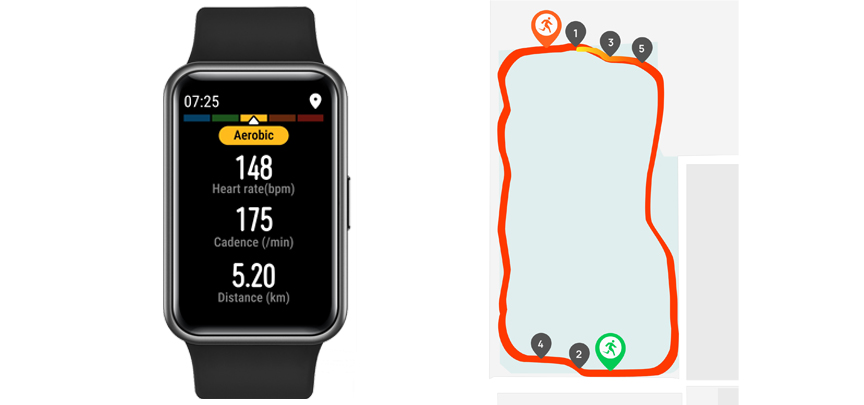 Find Your Best Rhythm
With a built-in GPS sensor, 5ATM, AI heart rate algorithm and innovative sensors, HUAWEI WATCH FIT is made for all the ways you exercise. This watch helps you train better by providing real-time metrics, scientific training effect evaluations and professional guidance.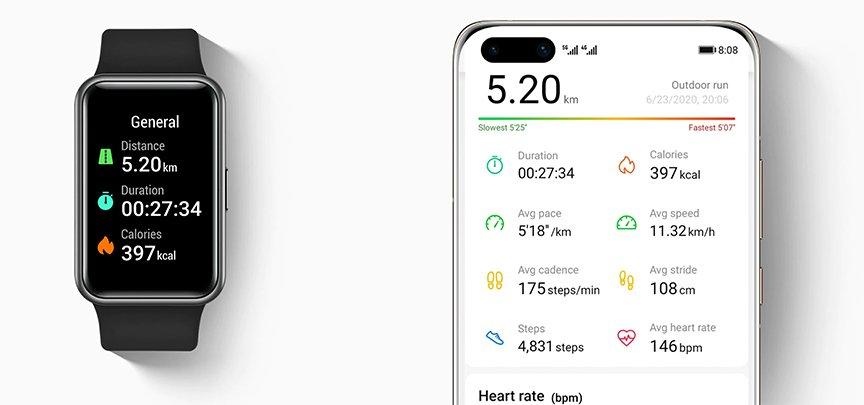 Smart Workout Partner, Advanced Metrics
HUAWEI WATCH FIT is able to detect the start of a workout, recognize the workout type and remind you to track it.11 Whether you are running or swimming, HUAWEI WATCH FIT can track the exact workout metrics you need. After you finish, you can see more detailed metrics, professional analysis and scientific guidance in HUAWEI Health App.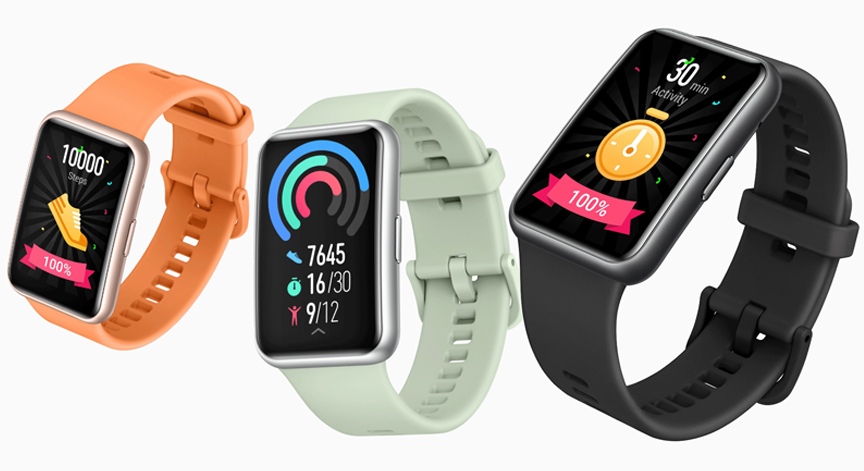 Stay Motivated Every Day
HUAWEI WATCH FIT tracks your fitness progress all day and reminds you to stand up every once in a while to prevent you from long-time sitting. The watch records your daily steps, active hours, and periods of medium to high-intensity activities in three colourful circles, and provides you a sense of accomplishment when completing them.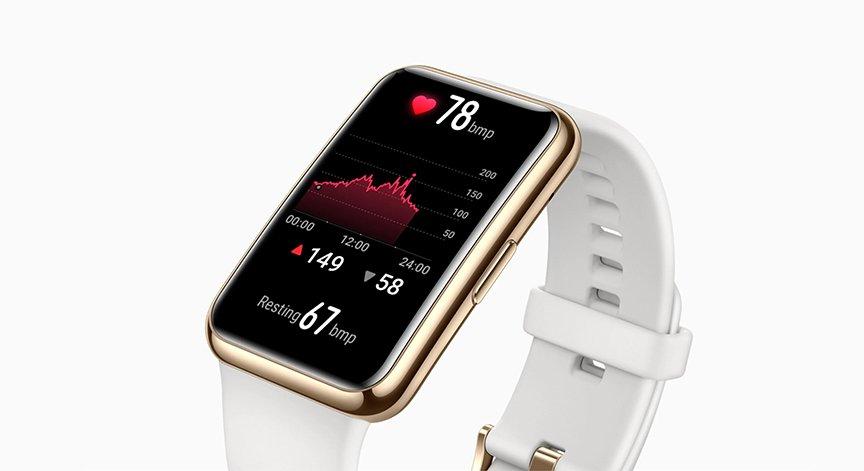 24-Hour Heart Rate Monitoring
Thanks to the HUAWEI TruSeen™ 4.0 heart rate monitoring technology, this smart watch can accurately monitor your heart rate in real-time during the day or even when you are sleeping. And timely detect if your heart rate exceeds the normal range, and send out a reminder to provide you with all-day health protection.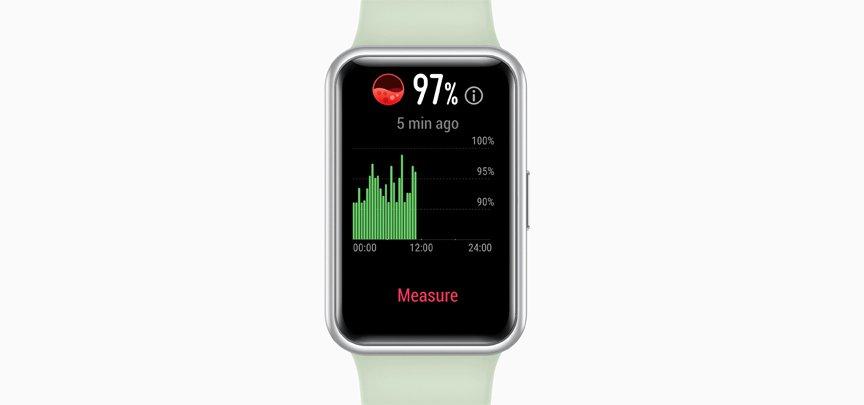 All-Day SpO2 Monitoring
Blood oxygen saturation is a key physiological indicator of respiratory functioning and metabolic circulation. Supporting continuous blood oxygen monitoring, HUAWEI WATCH FIT automatically sends a reminder to help adjust your status timely when you stay up late or overexert the brainpower.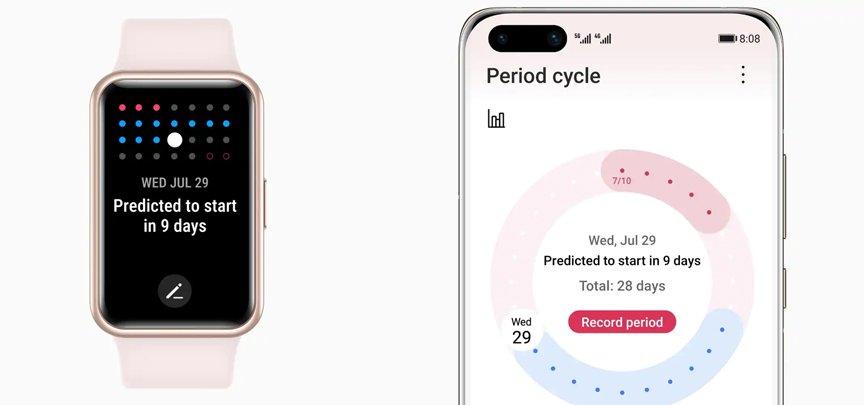 Prepare for Special Days
Keep track of your menstruation cycles and estimate ovulation date with this smart watch. HUAWEI WATCH FIT can send you reminders according to the records and help you prepare for the special days.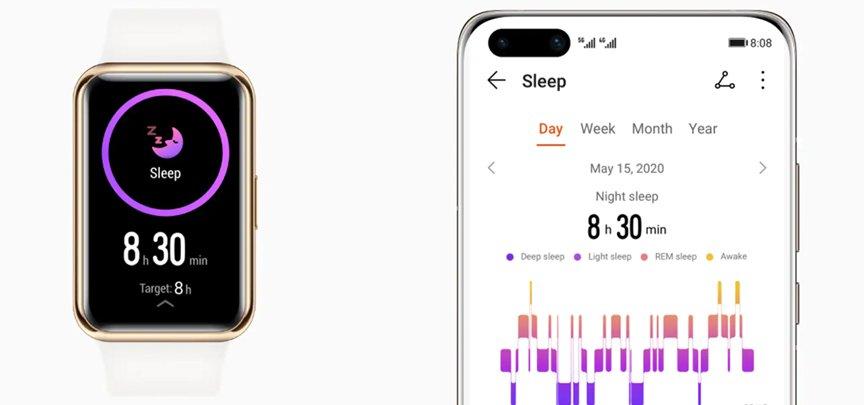 Better Sleep Monitoring
Based on the heart rate and HUAWEI TruSleep™ 2.0 sleep tracking technology, this watch is capable of recording your sleep state precisely and analysing your sleep quality, as well as providing 200+ scientific advice to improve your sleep quality.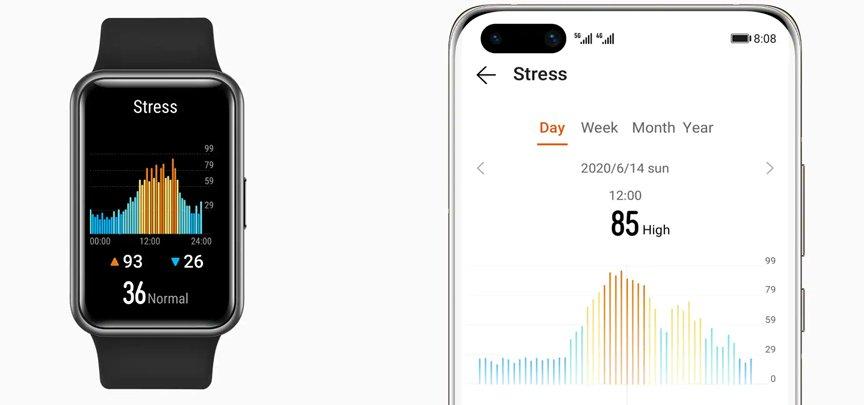 Release Your Stress
HUAWEI TruRelax™ technology and all-day stress tracking algorithm can effectively monitor your stress levels to see if you are feeling tense. Try to follow the suggested guided breathing exercises to release your stress when you are stressed out.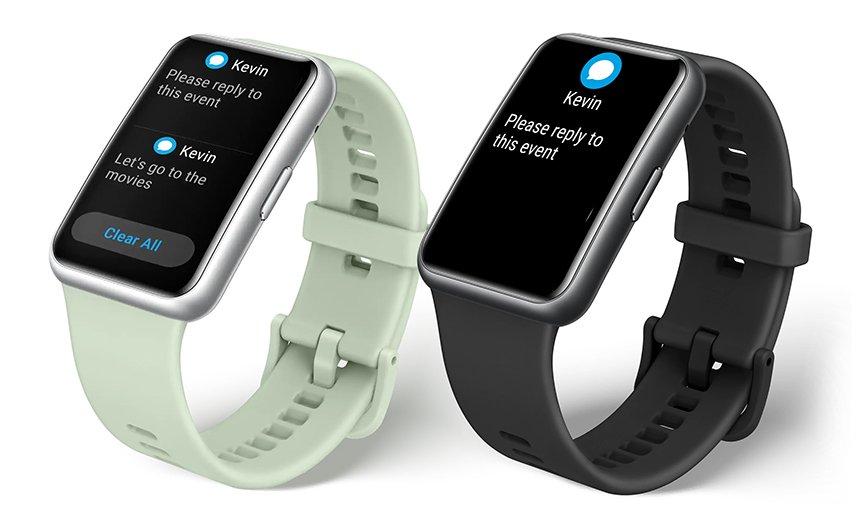 Instant Message Reminder
Providing timely reminders for SMS messages, incoming calls, calendar events and other social media apps, HUAWEI WATCH FIT lets you no longer miss any important affairs.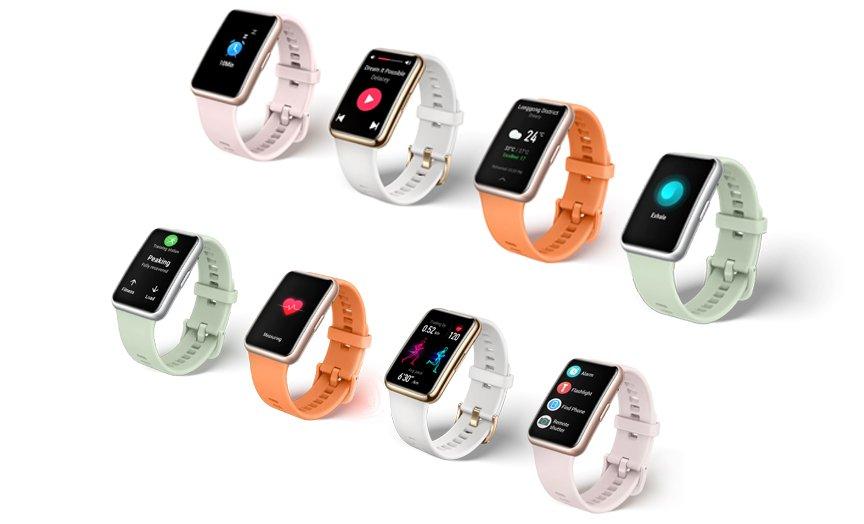 Personal Assistant for You
Now you can take better control of music playing, snap a photo by remote shutter or find your phone in a moment with this smart watch. You can also use other features like the Weather, Alarm, Timer, Stopwatch, Flashlight.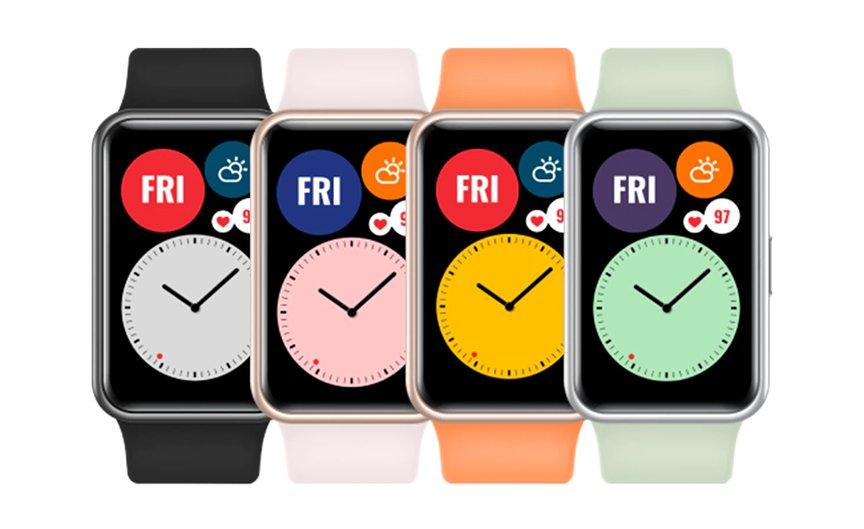 Active Edition
Polymer Fiber Watch Frame + Silicone Strap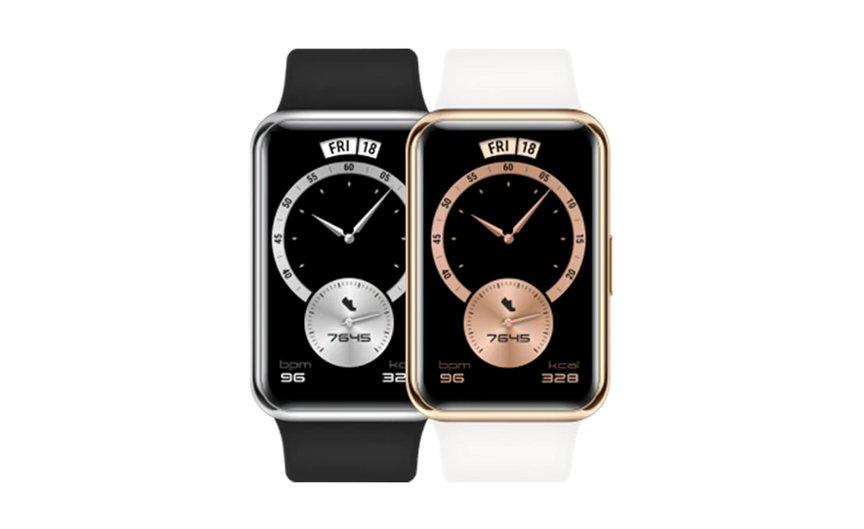 Elegant Edition
Stainless Steel Watch Frame + Fluoroelastomer Strap
Disclaimer:
1. The data comes from Huawei labs. The actual usage may vary depending on product differences, user habits, and environment variables.
2. The data comes from Huawei labs.
3. Using the Always-On function may increase battery consumption.
4. HUAWEI Watch Face Store is available only on Android and availability may vary by region.
5. Support up to 5 photos saved in the watch at one time. This feature is not supported while connected with an iOS phone.
6. The customizable feature is only available on some watch faces. This feature may vary depending on the watch face design and markets.
7. The data comes from Huawei labs. The weight of Active Edition is 21 g (without the strap), and Elegant Edition is 27 g (without the strap).
8. Based on results from HUAWEI lab tests. Battery life depends on actual usage situation. The battery can last 10 days in the following situations: Worn 24 hours a day with heart rate monitoring enabled, basic sleep tracking enabled for sleeping, 30 minutes of working out every week (GPS enabled), message notifications enabled (50 SMS messages, 6 calls, and 3 alarms a day), screen is turned on 200 times a day. The battery can last 7 days in the following situations: Worn 24 hours a day with heart rate monitoring enabled, HUAWEI TruSleep™ enabled for sleeping, 60 minutes of working out every week (GPS enabled), message notifications enabled (50 SMS messages, 6 calls, and 3 alarms a day), screen is turned on 500 times a day
9. This feature is available via OTA updates.
10. Devices complying with the 5ATM-rated water have a water resistance rating of 50 meters under ISO standard 22810:2010. This means that they may be used for shallow-water activities like swimming in a pool or ocean. However, they should not be used for scuba diving, waterskiing, or other activities involving high-velocity water or submersion below shallow depth.For details of waterproof precautions, please refer to https://consumer.huawei.com/en/support/content/en-us00738723/.
11. Six workout types are supported for automatic workout detection, including Outdoor Run/Walk, Indoor Run/Walk, Elliptical and Rower.
12. Low heart rate alert is not supported for iOS.
13. Oxygen saturation refers to the fraction of oxygen-saturated hemoglobin relative to total hemoglobin in the blood. This product is not a medical device, and is not intended to diagnose, treat, cure, or prevent any disease. Availability may vary by region.
14. This feature is not supported while connected with an iOS phone. Availability may vary by region.
15. Availability may vary by region.
16. This feature is not supported while connected with an iOS phone.
17. This feature is supported only by phones running EMUI 8.1 or later, and not supported while connected with an iOS phone.
*All the features are designed neither for medical use nor diagnosing, treating, curing or preventing any disease. All data and measurements should be used for personal reference only.
Source: www.huawei.com
Shop More