Product Information
Model No:

FV9845M0
SKU:

100091708
1 Year Warranty
Highlights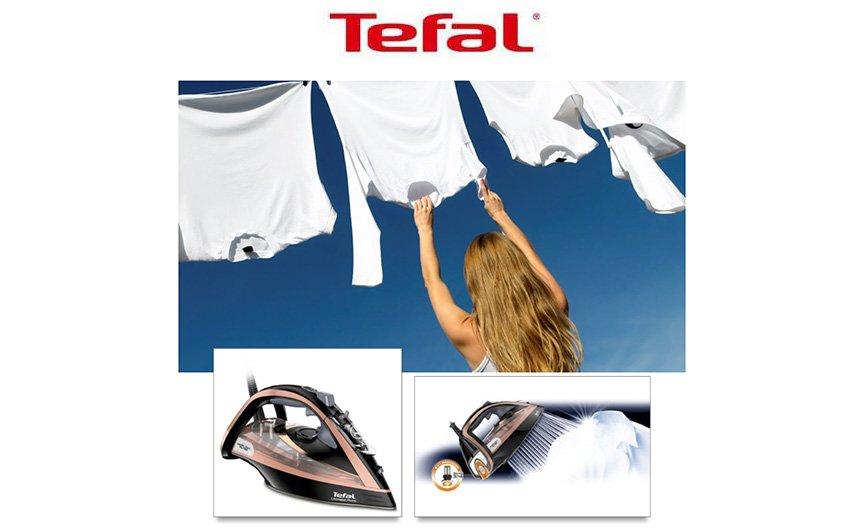 THE MOST POWERFUL IRON by Tefal STOPS SCALE STAINS
The Ultimate Pure Steam Iron by Tefal brings together awesome steam power with an exclusive scale management system, for perfect ironing that goes the distance. The brand-new exclusive Micro-Calc Filter technology helps prevent residue or stains from scale while ironing, while a variable steam output up to 60 g/min ensures maximum efficiency and an extra-powerful 260 g/min steam boost tackles even the most stubborn creases.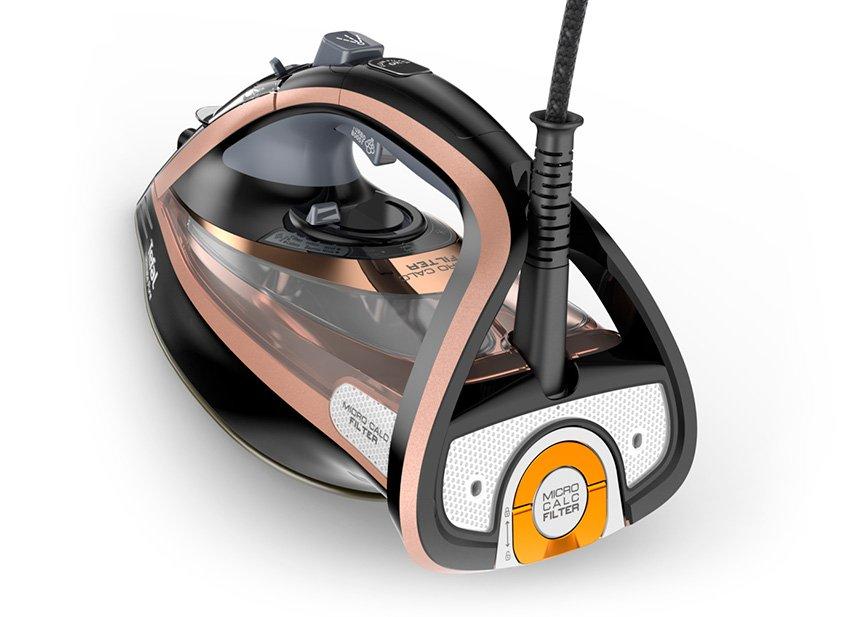 Exclusive 2-in-1 Micro-Calc Filter : delivers 100% filtered steam to stop scale stains on the linen
A brand-new exclusive scale management system uses innovative Micro-Calc Filter for a 2-in-1 action: scaleis stopped by the filter and pure steam delivered onto the linen. The Micro-Calc Filter is easily removable and easy to clean. Enjoy worry-free ironing and exceptional results!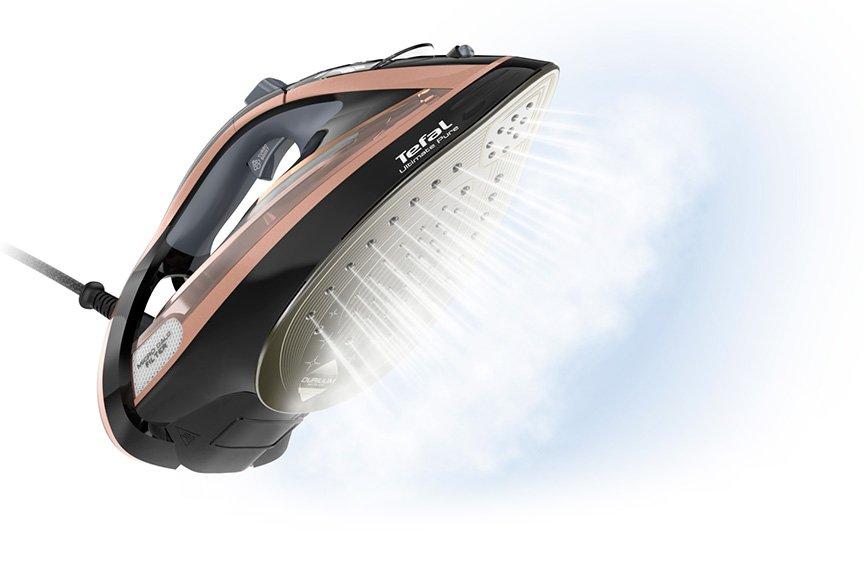 Powerful steam boost for the toughest wrinkles, Powerful continuous steam output to make crease removal easy
The intense power of a 260g/min steam boost smoothes out wrinkles from thick fabrics and tackles even the most stubborn creases with total ease. Continuous steam output up to 60 g/min provides the ideal constant amount of steam to efficiently remove all creases.
Durilium AirGlide Autoclean soleplate: the fastest and easiest glide
The Durilium AirGlide Technology ensures the best glide for fast and effortless ironing. It also ensures optimal steam diffusion for high-efficiency ironing. The Autoclean catalytic coating invented by Tefal helps keep your soleplate stain-free and in perfect condition over time.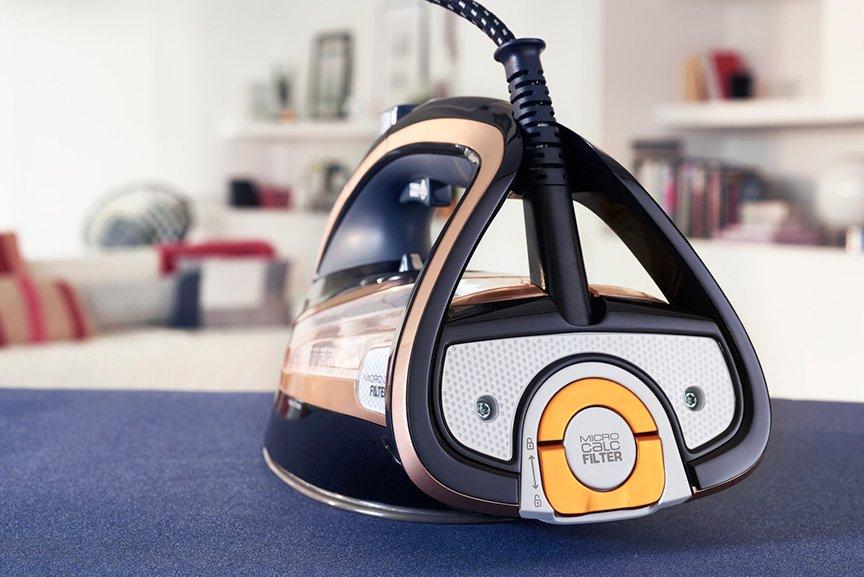 Smart auto-off for extra safety
When accidently left unattended, the iron automatically turns off. If left on its heel, it will switch off in 8 minutes. If left on the soleplate, it only takes 30 seconds before the iron shuts off.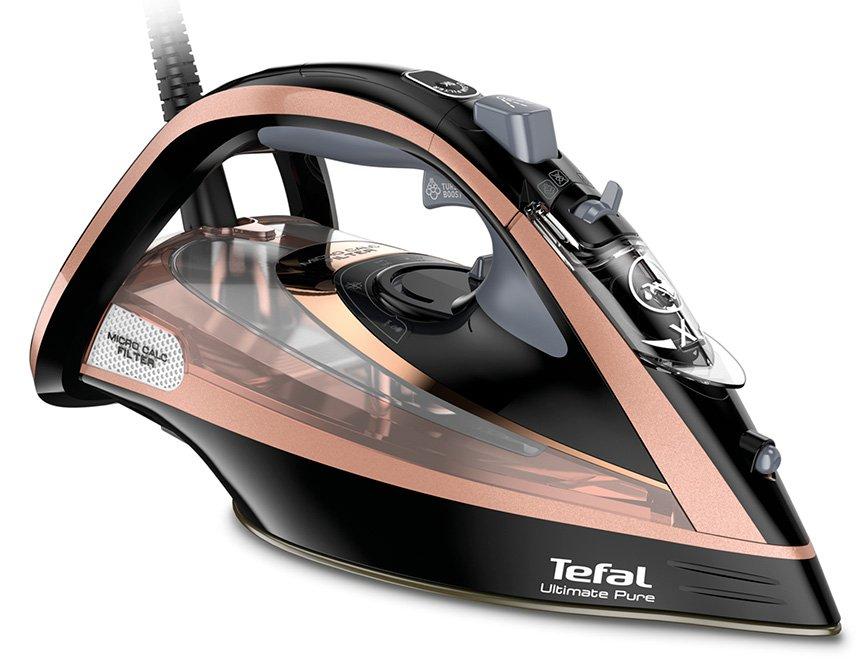 Anti-drip to keep the linen spotless
The anti-drip function prevents water from dripping and staining your linen while ironing.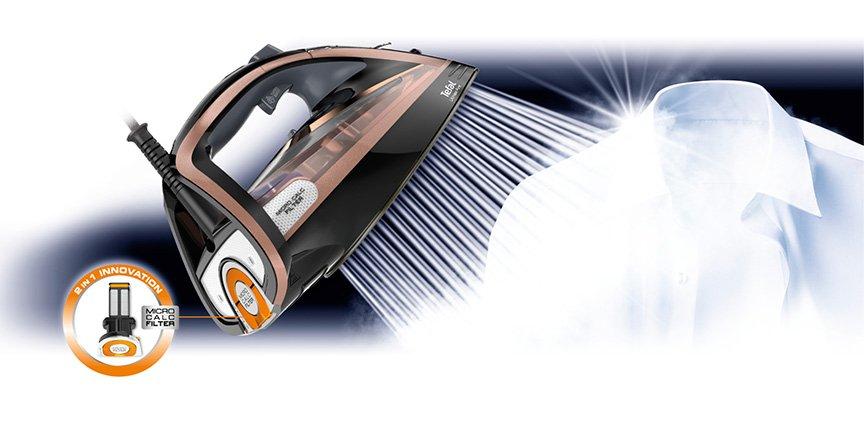 Automatic Steam setting: the right steam amount for each garment
With the Automatic Steam function, you don't have to worry about selecting the amount of steam. Just select the temperature for the type of linen you're ironing and the iron will do the rest.