Fast Home Delivery
Select A City
Product(s) Are Currently Available For Delivery To The Following Locations:
Collect From Store
Tasheel Finance, Purchase On Instalments
United Company for Financial Services (Tasheel Finance) governed by the Saudi Central Bank (SAMA) provides you with an installment sales program (Murabaha) that enables you to purchase all your needs on easy installment that can be done easily and fast online without the need to visit the store. For more information and to apply, click on More Details
More Details
Product Information

Model No:

MHXF3ZE/A
SKU:

100219873
Highlights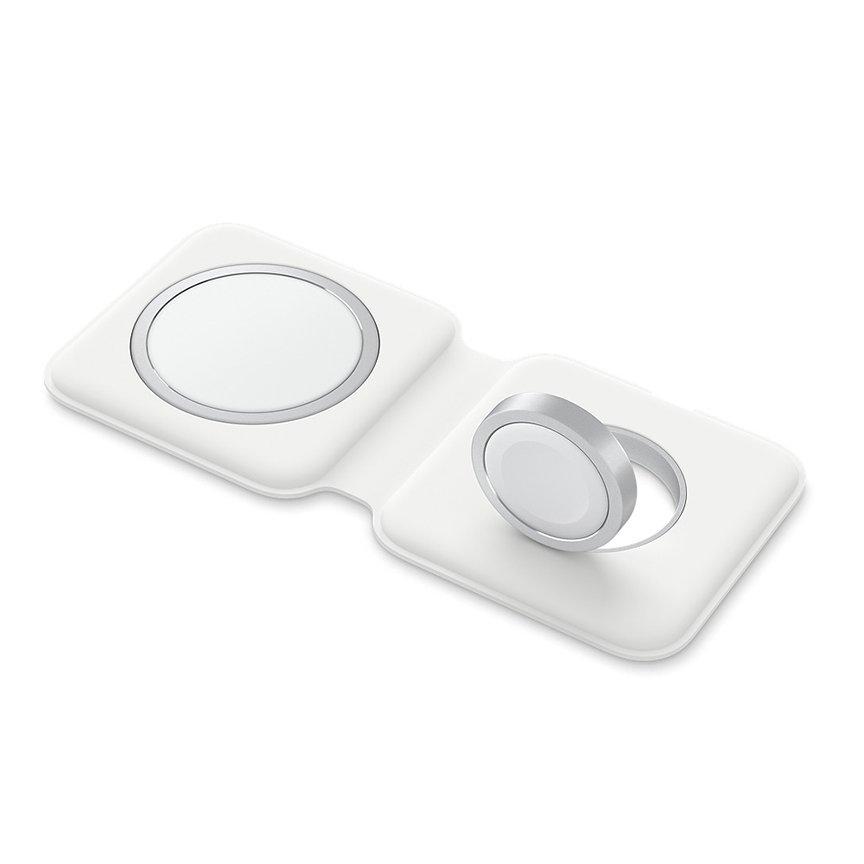 How to use your MagSafe Duo Charger with iPhone 12 models and Apple Watch
Learn how to charge your iPhone 12 and Apple Watch wirelessly with your MagSafe Duo Charger.
Your MagSafe Duo Charger is designed to work with iPhone 12, iPhone 12 mini, iPhone 12 Pro, iPhone 12 Pro Max, Apple Watch (all models), Apple MagSafe accessories, and Qi-certified devices and accessories.
Use the included USB-C to Lightning cable to plug in your MagSafe Duo Charger to a recommended 20 watt (W) or greater Apple USB-C power adapter* or a compatible third-party USB-C adapter. You can also connect to a USB-C port on a Mac or PC.
Place your MagSafe Duo Charger face up—as shown—on a flat surface, clear of any metal objects or other foreign material.
* The Apple 29W USB-C Power Adapter isn't compatible with the MagSafe Duo Charger.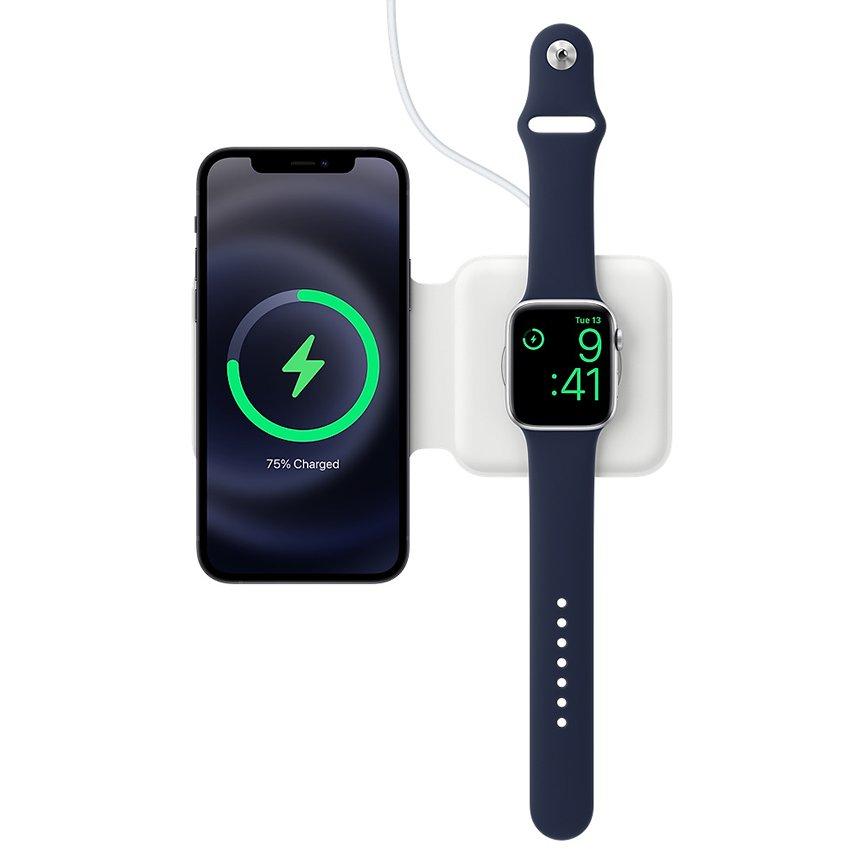 IGet faster wireless charging for iPhone 12 models
The MagSafe Duo Charger is designed to quickly and safely wirelessly charge your iPhone 12 and Apple Watch simultaneously. The system intelligently adapts to conditions to optimize charging iPhone 12 at up to 14W of peak power delivery. The actual power delivered to the iPhone will vary depending on the wattage of the power adapter and system conditions. For iPhone 12 mini, the MagSafe Duo Charger delivers up to 12W of peak power delivery.
It is important to plug into a power source before placing your iPhone on the MagSafe Duo Charger. This allows MagSafe to verify it is safe to deliver maximum power. If you happen to place your iPhone on the MagSafe Duo Charger before plugging into a power source, simply remove your iPhone from the MagSafe Duo Charger, wait three seconds, and then put it back on to resume maximum power delivery.
The MagSafe Duo Charger is designed to negotiate the maximum power up to 9 volt (V) and 3 amp (A) with a USB PD compatible power adapter. MagSafe will dynamically optimize power delivered to the iPhone. The power delivered to the iPhone 12 at any moment will vary depending on various factors including temperature and system activity.
All power adapters have different ratings for the amount and rate of power delivery. The MagSafe Duo Charger requires the following ratings to deliver faster wireless charging:
• USB-C connector (USB-A is not supported)
• 9V/2.22A power adapter provides up to 11W of power
• 9V/3A and higher power adapter provides up to 14W of power
• iPhone 12 mini can get up to 12W for faster wireless charging with at least 9V/2.62A
• Higher wattage adapters at or above 9V/3A will also deliver a maximum of up to 14W peak power to iPhone 12
To use both the iPhone and Watch charger at the same time, the MagSafe Duo Charger requires at least 15W (5V/3A or 9V/1.67A), but this will result in slower charging.
While Lightning accessories such as headphones are connected, charging is limited to 7.5 W to comply with regulatory standards.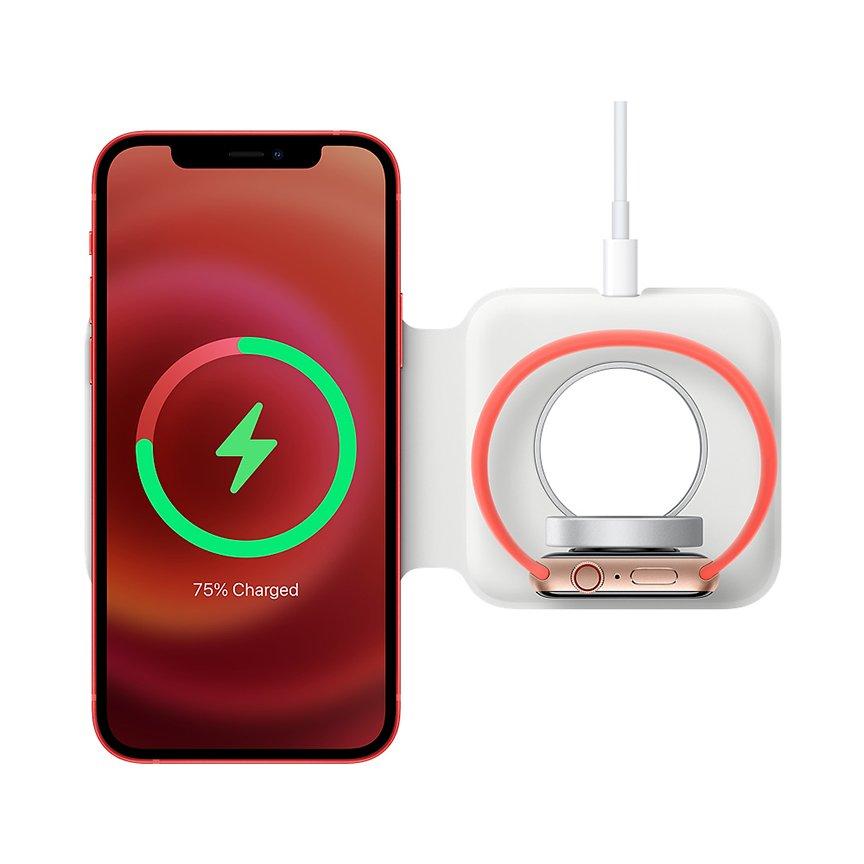 How to charge Apple Watch
You can charge your Apple Watch in a flat position with its band open, or on its side, by lifting the inductive charging connector. When docked on its side, your Apple Watch automatically goes into nightstand mode, so you can also use it as your alarm clock.
Place the back of your Apple Watch on the charging connector, with the connector upright or flat. When your Apple Watch starts to charge, you'll see the charge indicator on the display.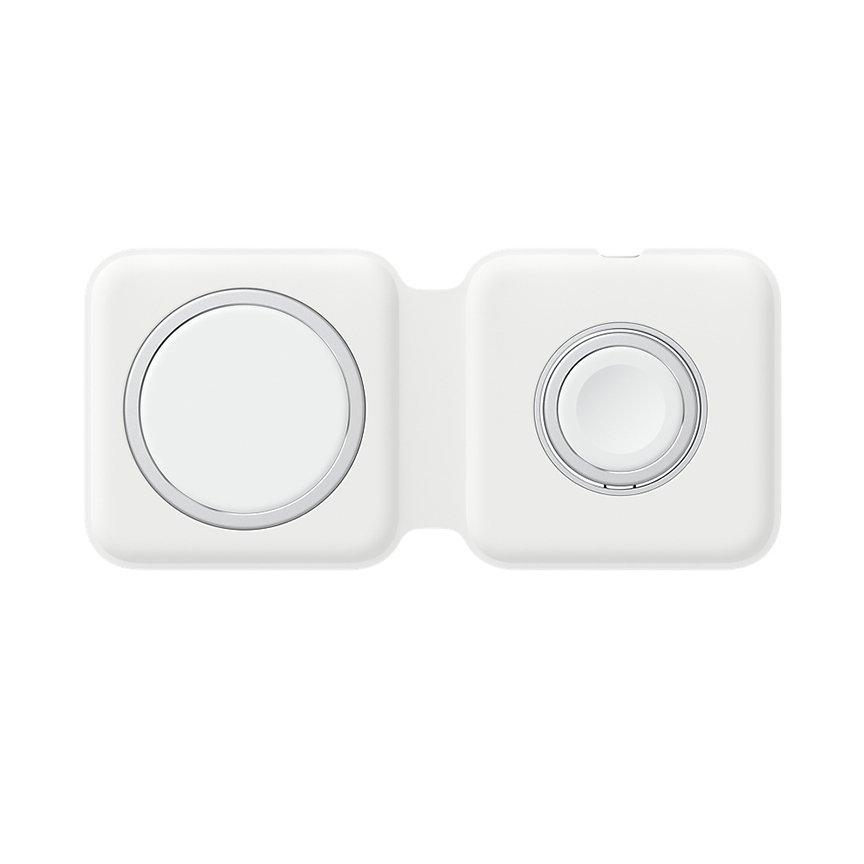 Learn more
Your MagSafe Duo Charger is designed to charge your Apple Watch and to provide faster and most efficient charging with iPhone 12, iPhone 12 mini, iPhone 12 Pro, iPhone 12 Pro Max, and Apple MagSafe accessories.
When charging a non-MagSafe Qi-compatible device with a MagSafe Duo Charger, power is reduced and charge times might be slower than on a typical Qi charger.
Don't place credit cards, security badges, passports, or key fobs between your iPhone and MagSafe Duo Charger, because this might damage magnetic strips or RFID chips in those items. If you have a case that holds any of these sensitive items, remove them before charging or make sure that they aren't between the back of your device and the charger.
If your iPhone is connected to both a MagSafe Duo Charger and power via a Lightning port, your iPhone will charge via the Lightning connector.
As with other wireless chargers, your iPhone or MagSafe Duo Charger might get slightly warmer while your iPhone charges. To extend the lifespan of your battery, if the battery gets too warm, software might limit charging above 80 percent.
If you keep your iPhone in a leather case while charging with your MagSafe Duo Charger, the case might show circular imprints from compression of the leather. This is normal, but if you're concerned about this, we suggest using a non-leather case.
As with most soft materials, the covering of accessories might experience normal wear over time. The hinge area of your MagSafe Duo Charger might wrinkle over time if kept in the folded position. Leaving your MagSafe Duo Charger in a very hot environment (like the inside of a car on a hot day) in the folded position might lead to more visible, deeper wrinkles in that area. This doesn't affect the functional performance of the accessory.