Discover the best way to savour fruits and vegetables.
We've all heard about the current popularity of juices and their health benefits.
As we become more health conscious, our focus on ensuring our family's everyday nutrition also grows.
With the vast variety of juices available in stores, is it even worth investing in a juicer?
A juicer provides the opportunity to create your very own juices, from fresh fruit juices such as orange, mango, watermelon and berries, to detox juices such as celery, cucumber and ginger. And giving you the freedom to explore new flavors by adding herbs like mint, basil, coriander etc.
In picking the right juicer for you, there are 2 key factors to take into consideration:
Ease of cleaning
Ease of storage and assembly
Benefits of Using a Juicer

If you prepare at least one juice a day, you're probably saving 10 SAR/day. Over a year, we're talking about savings of 3,600 SAR ! And this is per member of the family.
It is 100% hygienic. You control the whole process from washing the fruits & vegetables, to cutting them, juicing them in your own juicer and cleaning it as per your own standards.
It's there in your kitchen. You can prepare it to your mood, anytime of the day.
You can juice all the fruits and vegetables of your choice, picking the best quality ones, organically grown etc. Trying out new juice recipes, exploring new flavors custom made for each member of your family.
It's easy to clean – just disassemble your juicer and wash all the parts separately
Very easy & simple to use: just add your fruits & vegetables into the feeding tube, turn your appliance on. Few seconds later, your juice is ready. Savor & Enjoy!
There are 3 Types of Juicers
The type of juicer you use can make a big difference in the quality and the quantity of juice you get . There are a wide variety of juicers on offer in the market. The choice is yours depending on what fits your needs best, whether you want to juice citrus, hard or soft fruits. Let us help you choose.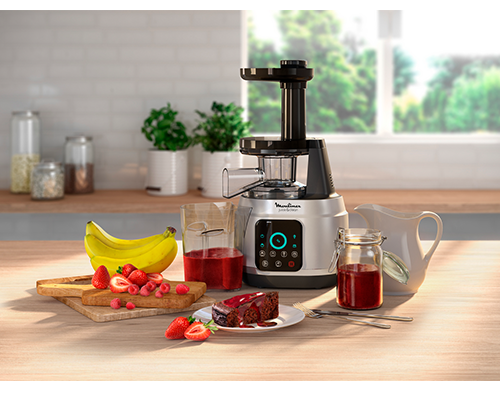 1. Healthy Juicing
Pure Juice! Pure Goodness Slowly Released Into Your Glass!
The slow juicer technology – also known as cold press technology - presses the fruits & vegetables at a slow rotating speed. This allows to squeeze maximum juice out of your ingredients releasing maximum nutrients & vitamins. This method lets you enjoy natural flavor, vibrant color and all the nutrients of your favorite fruits, vegetables and leafy greens.
Maximum Versatility
Some models available on the market come with additional filters allowing extended preparations such as sorbets, coulis and jams.
Preset Automatic Programs Including Easy Clean
Models with preset automatic programs make the experience even more enjoyable: you can explore an array of juice recipes varying the ingredients without worrying about the clean up. The Easy Clean program will do the work for you.
Benefits:
Very easy to use & clean
It's very quiet compared to other type of juicers
Thanks to the slow juicing process, it delivers a delicious juice full of nutrients
Some models come with a large size jug for continuous juicing for the whole family
Can be very intuitive if you opt for a model with a digital interface
Delivers Perfect results on:
Fibred Fruits and vegetables (leafy greens and wheatgrass), berries, herbs such as: mint, basil, coriander etc.
Hard fruits, leafy greens, herbs & berries

Green Juice

Strawberry & banana sorbet
---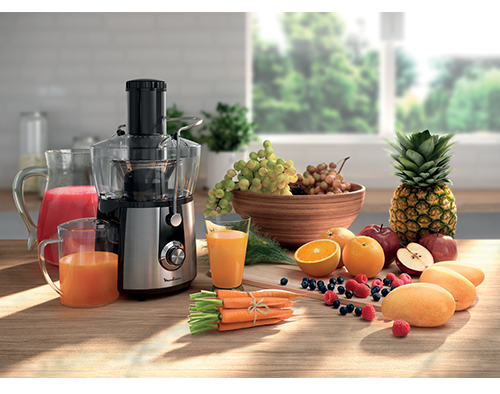 2. Fast Juicing
Delicious Home Made Juice In Just Seconds
From raw ingredient – whether hard or soft – to pure juice in a blink of an eye. With a centrifugal juicer, you can make delicious fruit or vegetable juice quickly and easily.
Very Powerful
When selecting your centrifugal juicer, you need to make sure it comes with powerful motor (700 W and above) to achieve greater juicing results.
Up To 1.5L Of Juice Delivered With Maximum Convenience
A key feature to look for on this type of juicer is a large feeding tube. So there is no need to chop or peel your fruits and vegetables in advance. Enjoy preparing juice for the entire family, your guests and friends.
Benefits:
Robust and sturdy for stability on your countertop
Stainless Steel grids & filters for optimum juicing extraction
Maximum safety: some models are equipped with anti-slip feet to ensure stability and a reliable locking system such as a large metal security handle
Generally comes with 2 speeds to adapt to soft or hard ingredients
Delivers perfect results on:
Soft & Hard fruits, vegetables (carrots, apples, etc…)
Kiwi, Peach, Berries, Apple, Tomato
---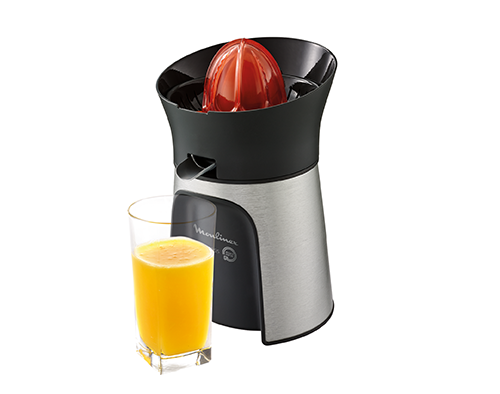 3. Essential Juicing
Your Daily Vitamins Directly Served Into Your Glass
A citrus juicer is your daily partner, waking you up to a glass of freshly squeezed orange juice. It is recommended to choose your citrus juicer with direct serve feature for maximum convenience. So the juice falls directly into your glass, ready to drink. No vitamins depletion along the way.
Multicones For Any Kind Of Citrus
It is recommended to choose a model with variable cone sizes to adapt to all kind of citruses.
Effortless Juice
Some models come with Automatic On/Off feature which detects fruit pressure. The appliance saves you the trouble of squeezing it by hand and does the job for you.
Benefits:
Easy to clean, thanks to its simple construction
Anti-Drip: some models come with an anti-drip spout to keep your countertop clean
Delivers perfect results on:
Citruses: Orange, lemon, Grapefruit, Mandarin, etc.
All kind of citruses